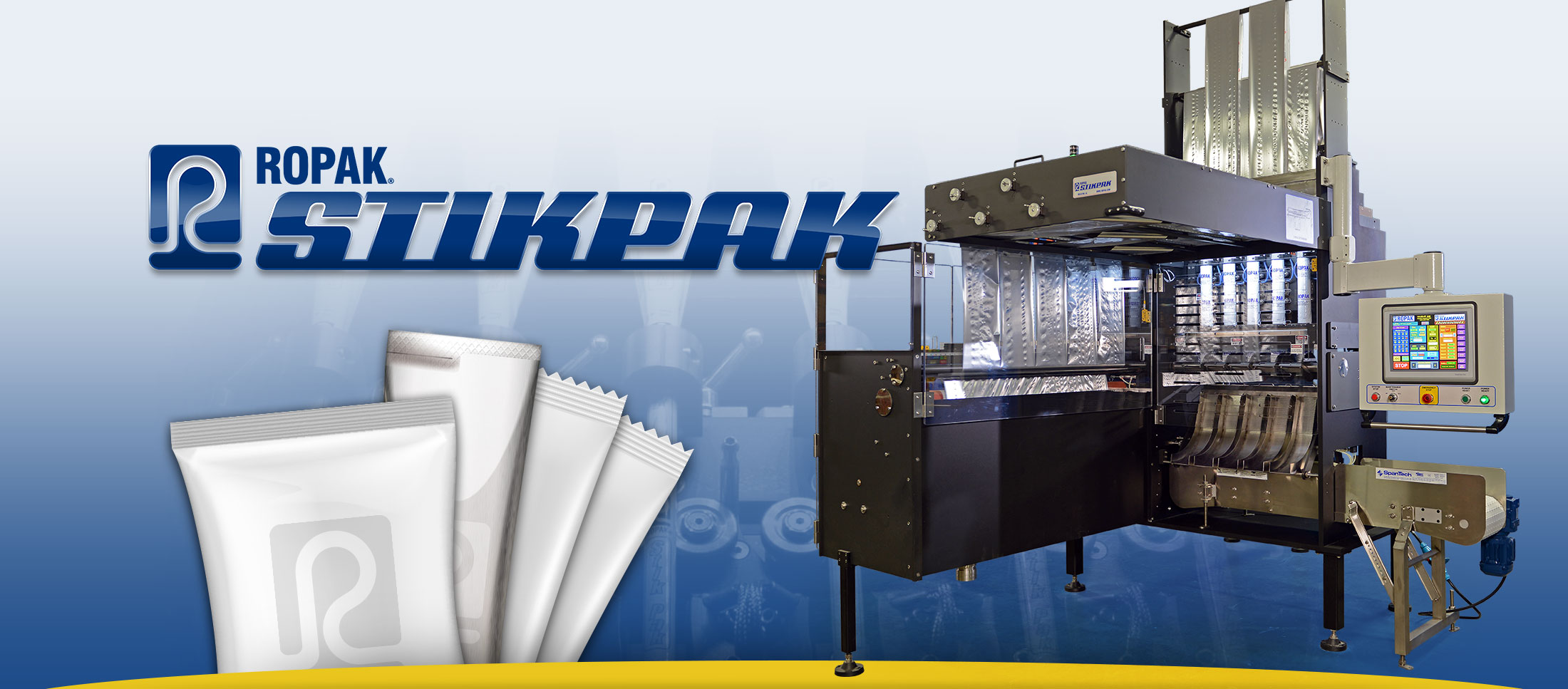 MINIMAL FOOTPRINT. MAXIMUM OUTPUT.
DRY, LIQUID

&

SPECIALTY PACKAGER
StikPak Puts You in Control
Flexibility, speed, and savings: the Ropak StikPak delivers it all. Our StikPak filler uses continuous motion to vertically form, fill, and seal packages containing a variety of either dry or liquid products. Easy changeovers and multiple lane configurations put you in control for maximum efficiency, maximum profits.
Applications
DRY — Drink mixes, protein supplements, pharmaceutical powders, tablets, candies, and more
LIQUID — Syrups, concentrated liquid drink mixes, cosmetics, skin lotions, and more
SPECIALTY — Industrial greases, semi-frozen puree, chilled milk, and more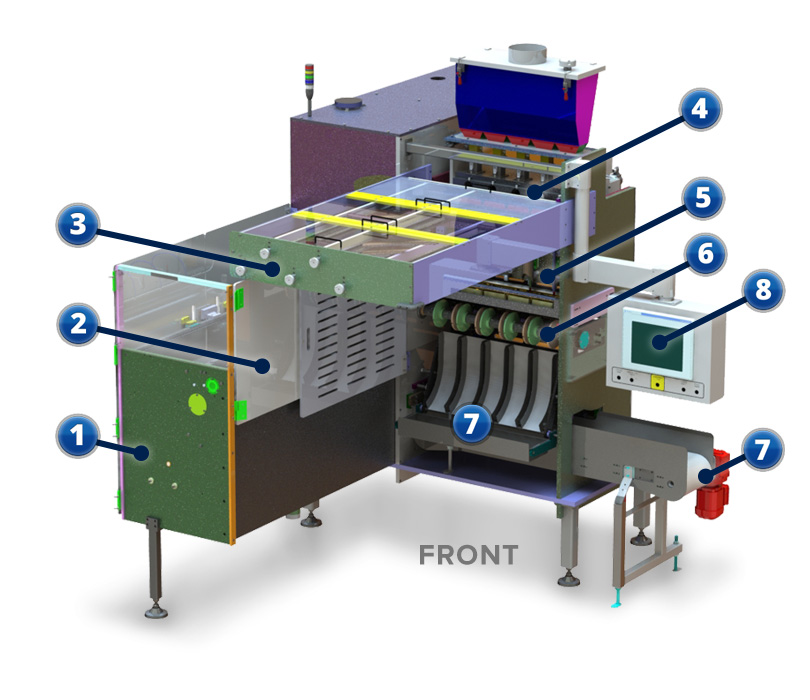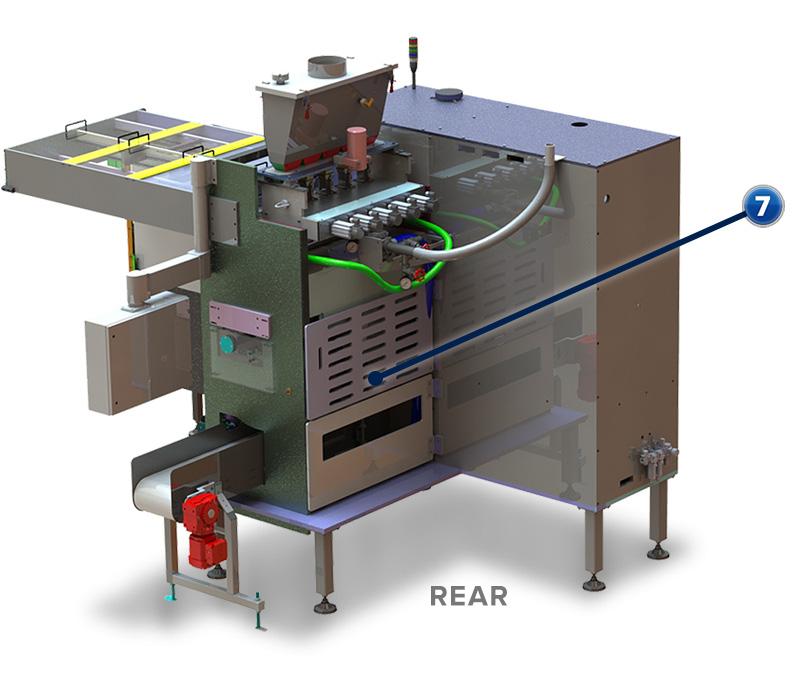 Film Unwind
Film Slitting
Web Turn
Doser (Multiple Doser Options Available)
Forming Section
Pack Cutoff (Multiple Knife Options Available)
Discharge Points (Front, Side & Rear)
Control Screen
StikPak's pouch length changes and on-the-fly per-lane weight adjustments with touch screen commands, put speed and accuracy at your fingertips.
Key Benefits
Big Benefits. Small Machine.
Easy to operate — The StikPak offers a minimal footprint, centralized primary controls, and an optimized work load for the operator
Easy to maintain — There are few grease fittings, no reciprocating parts, and a mere handful of tools required for maintenance
Computer-controlled — Handles the filler and maximizes efficiency by monitoring and managing many zones of temperature control, product availability, film alignment correction, and output control
High precision — Multi-lane doser controls offer highly repeatable, precise dosing with on-the-fly, per-lane adjustments
Speed — In excess of 1,000 pouches per minute, depending on product and pack size
Easy size changes — Pouch length change at the touch of a button via the HMI controls. Pouch diameter/width adjustment with changeover parts in as little as 2 to 4 hours.
Features
StikPak top, bottom, and fin seal profile
On-the-fly, per-lane weight control
On-screen fast pouch length change
StikPak filler with standard tooling can be adjusted from a 3-inch to a 12-inch pouch by a touchscreen adjustment and with no tooling changes
Range of pouch diameters possible with minimal tooling and time for changeover
Specifications

– A –
– B –
Roll Width
Seal Width
Tube Diameter
Slit Width
5-Lane Wide
5-Lane
10-Lane Wide
10-Lane
.454" (11mm)
.250
1.380
6.900
6.900
13.800
13.800
.548" (14mm)
.313
1.570
7.850
7.850
15.700
15.700
.639" (16mm)
.375
1.756
8.780
8.780
17.560
17.560
.670" (17mm)
.398 (10mm)
1.810
9.050
9.050
18.100
18.100
.788" (20mm)
.472 (12mm)
2.051
10.255
10.255
20.510
20.510
.834" (21mm)
.500
2.136
10.680
10.680
21.360
21.360
.905" (23mm)
.551 (14mm)
2.291
11.460
11.460
22.920
22.920
1.024" (26mm)
.625
2.520
12.600
12.600
25.200
25.200
1.217" (31mm)
.750
2.902
14.530
14.530
29.060
26.154 (9 Lanes)
1.410" (36mm)
.875
3.298
16.460
16.460
32.980
26.384 (8 Lanes)
1.604" (41mm)
1.000
3.681
18.405
18.405
36.810
25.767 (7 Lanes)
1.800" (46mm)
1.125
4.070
20.350
20.350
2.000" (51mm)
1.250
4.460
22.300
22.300
2.185" (55mm)
1.375
4.850
24.250
24.250
2.380" (60mm)
1.500
5.250
26.250
2.575" (65mm)
1.625
5.630
28.150
2.775" (70mm)
1.750
6.050
30.250
2.975" (75mm)
1.875
6.425
32.125
3.165" (80mm)
2.000
6.850
34.250
3.360" (85mm)
2.125
7.200
36.000
3.560" (90mm)
2.250
7.600
38.000
3.750" (95mm)
2.375
8.000
40.000
3.950" (100mm)
2.500
8.375
41.875
Footprint
OVERALL DIMENSIONS:
133″ L (Wide) / 113″ L (Std) x 73″ W x 117″ H
3378mm L (Wide) / 2870mm L (Std) x 1839mm W x 2963mm H
5- and 10-lane StikPak models are available in both standard and wide versions to accommodate the varying package size needs of our clients. Manufacturing speeds can exceed 100 cycles per minute per lane (1,000PPM), depending on product flow characteristics, packaging materials, and fill temperatures.
---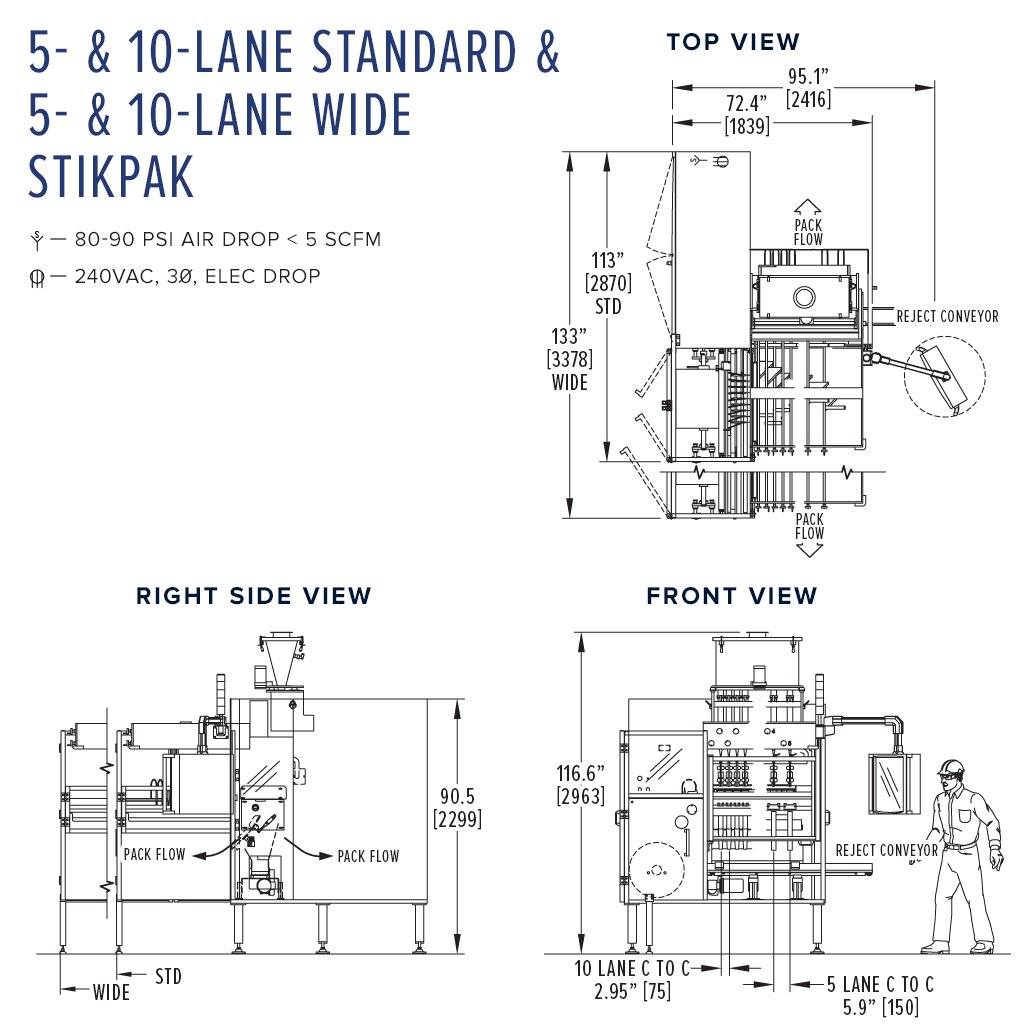 End Seal Designs
Pour Spout
Horizontal Tear
Pour Spout
Corner Tear
Pour Spout
Child Resistant
Specialty Film
Laser Score
Upgrades
5- or 10-lane filler depending on pouch size
Connection to/control of product takeaway conveyors
Vibrator and agitator solutions
Twin-augers per lane for some difficult products
Individual lane hopper for dosing flexibility
Feedback from and response to upstream and downstream equipment
Date code printing or embossing during run
Barcode reading for film/batch identification
Machine conversion between dry and liquid dosing
Vacuum pulse fill tube system
Cross Seal – Pack flatteners/conditioners
Individual lane sampling/inspection gate
Hot fill capabilities
Tear notch, pour spout, or perforation on the pouch
Retrofitting
We now can retrofit older machines with new parts to match the speed and quality of new machines. To see if your machine is compatible for retrofitting, please contact us.
Safety
At Ropak, our focus is on more than just manufacturing quality high-speed equipment. Designing operator safety features into each machine is critical.
With our engineering team, safety is not an afterthought. We build the latest safety technology into the designs to minimize the hazards the moving parts pose to personnel on the floor. Our designers are incorporating safety systems into the automation controllers through networking capabilities. Not only does the use of advanced network technology increase the machine's responsiveness to a hard stop command, it also reduces the time and cost for building the machines. For our customers, it's a win–win situation: improved safety features and lower machine costs.
What can we help you package?