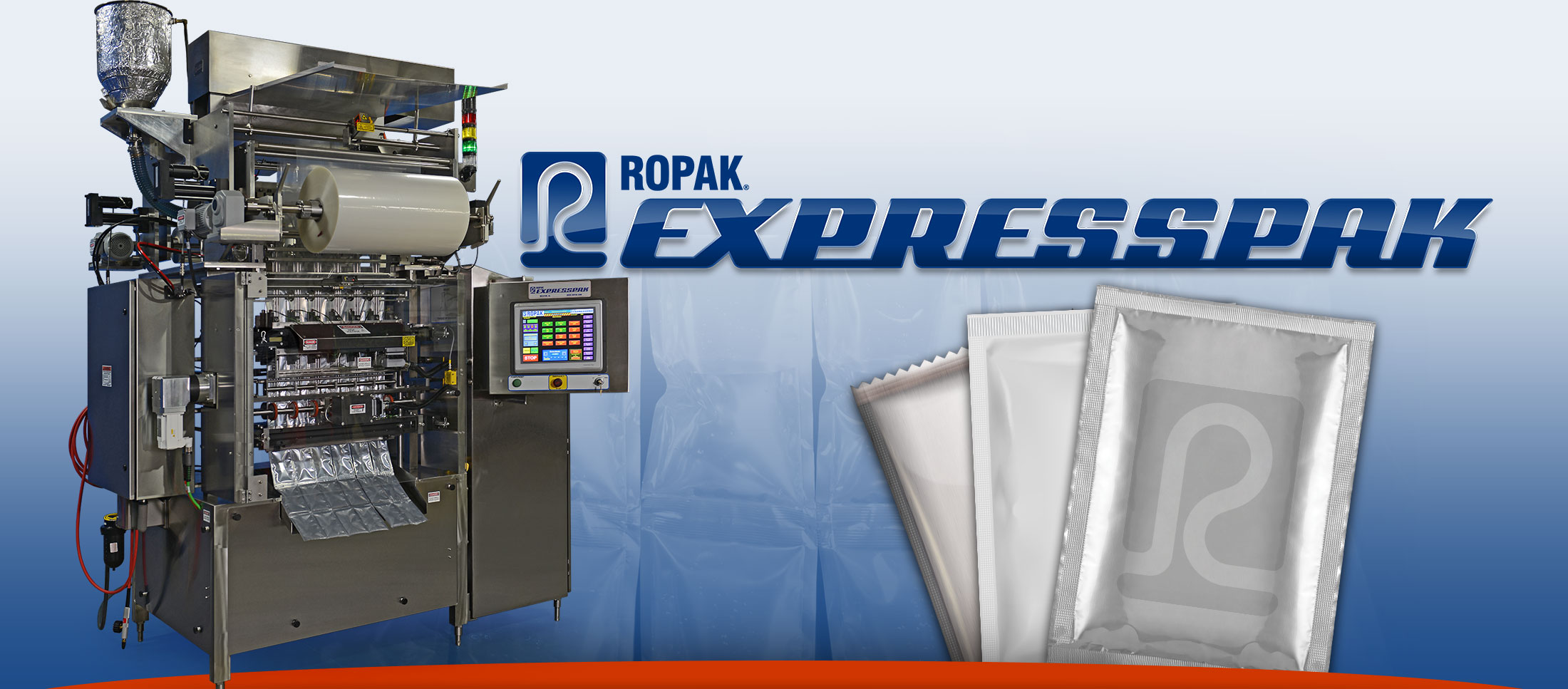 VERSATILITY. ACCURACY. SIMPLICITY.
DRY

&

LIQUID PACKAGER
Small Footprint. Big Impact.
The touch screen control interface, integrated with an automation controller, makes the ExpressPak a favorite of machine operators. The ExpressPak filler utilizes intermittent motion to vertically form, fill, and seal both mixed and pure liquid products spanning a wide range of viscosities and textures. Our modular design minimizes changeover time and reduces the costs of change parts, making ExpressPak a smart business decision for your bottom line, too.
Applications
DRY — Drink mixes, protein supplements, pharmaceutical powders, tablets, candies, and more
LIQUID — Chlorine bleach, epoxy, mustard, catsup, tomato sauce, salsa, cheese, water, cake frosting, peanut butter, and more
SPECIALTY — Custom applications available. Contact Ropak.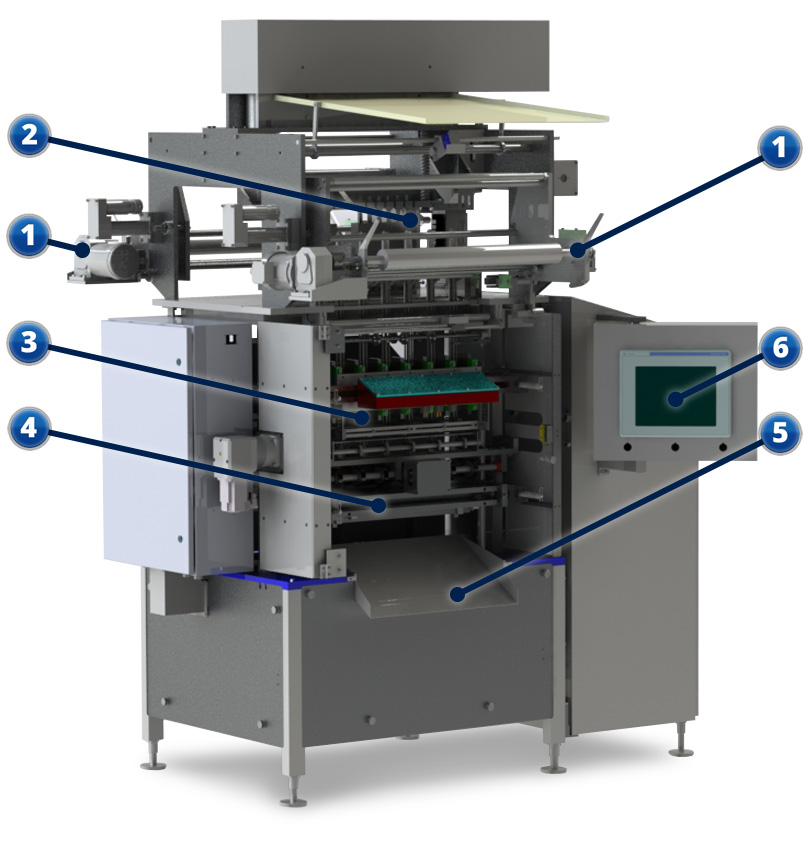 Film Unwind
Product Delivery System
Forming & Filling Area
End Sealing & Pack Cutoff
Discharge Area
Control Screen
ExpressPak delivers improved efficiency & reliable dosing.
Key Benefits
Easy to operate – A small footprint, centralized controls, and optimized work load
Easy to maintain – Few points of maintenance on drive shaft, quick-change knives and dies, accessible controls, watertight cabinets
Computer-controlled – Automated monitoring and management of product availability, sealing temperatures, film alignment correction
High precision – Servo control of both doser and pack length for precise sizing and filling
Speed – Speed in excess of 80 cycles per minute, depending on product
Easy size changes – Adjust pouch width by positions of sealers and knives, pouch length via the HMI; add lanes with minimal tooling
Specifications
| Model: | ExpressPak 18 | ExpressPak 25 |
| --- | --- | --- |
| Pouch Size Max: | 18" x 12.75" | 25" x 17.75" |
| Pouch Size Min: | 1.5" x 1.5" | 2" x 3" |
| Fill Volume Max: | 1 gallon | 2 gallons |
| Fill Volume Min: | 5 grams | 15 grams |
| Roll Diameter Max: | 22" | 22" |
| Weight (approx.): | 3,900 lbs. | 4,200 lbs |
| Dimensions: | 69" x 71" x 144" | 77" x 71" x 104" / 114" |
| Supply Voltage: | 240 / 480 | 240 / 480 |
| Power Consumption: | 85A / 45A | 85A / 45A |
| Air Consumption: | 100psi / 2.5cfpm | 100psi / 2.5cfpm |
Footprint
MODEL 18 OVERALL DIMENSIONS:
82″ L x 72″ W x 105″ H
2083mm L x 1829mm W x 2657mm H
MODEL 25 OVERALL DIMENSIONS:
82″ L x 79″ W x 105″ H
2083mm L x 2007mm W x 2657mm H
---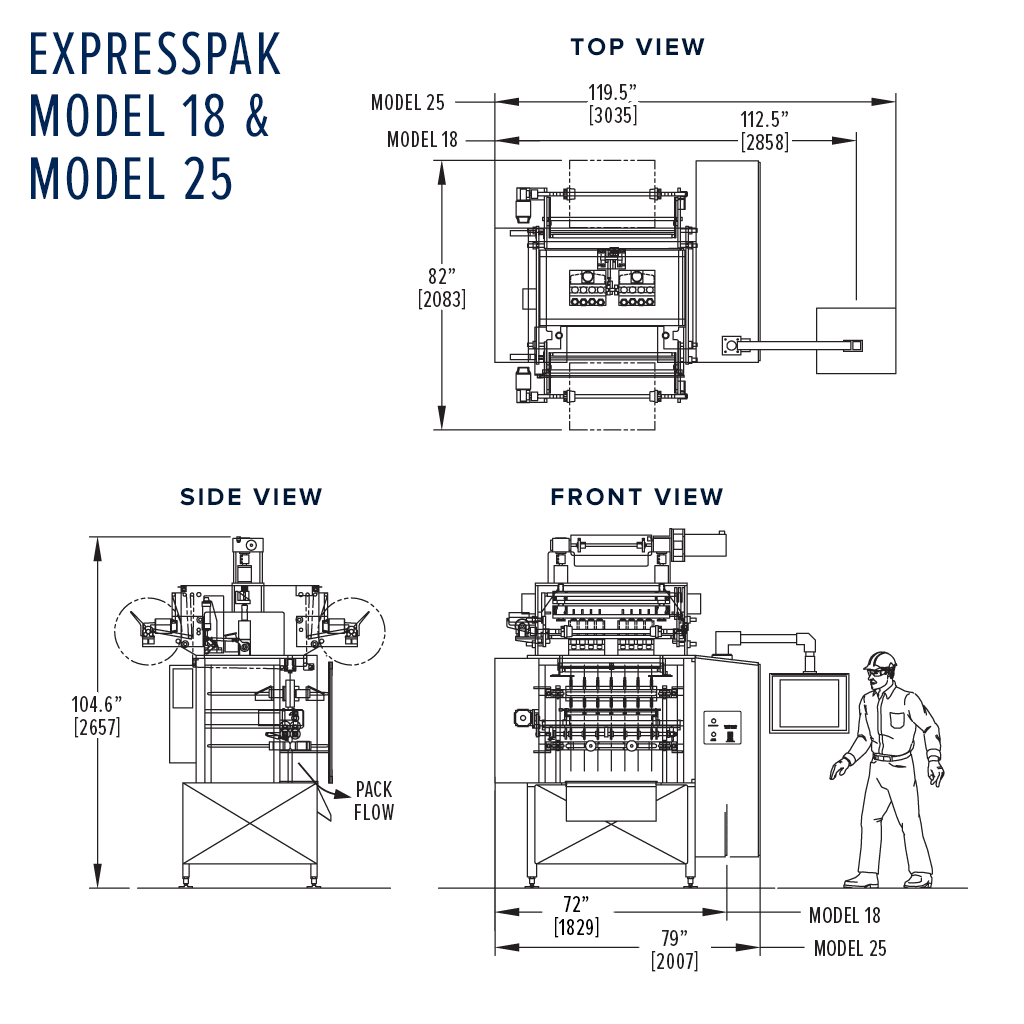 Upgrades
Connection to/control of product takeaway conveyors
Hot fill capabilities
Pressurized or jacketed hopper
Front and rear film registration
Discharge batch gate
Individually monitored side seal die temperatures
Fill tube blowoff
Embossing or printing to film during run
Tear notch, pour spout, or perforation on the pouch
Clean air or gas purge
Retrofitting
We now can retrofit older machines with new parts to match the speed and quality of new machines. To see if your machine is compatible for retrofitting, please contact us.
Safety
At Ropak, our focus is on more than just manufacturing quality high-speed equipment. Designing operator safety features into each machine is critical.
With our engineering team, safety is not an afterthought. We build the latest safety technology into the designs to minimize the hazards the moving parts pose to personnel on the floor. Our designers are incorporating safety systems into the automation controllers through networking capabilities. Not only does the use of advanced network technology increase the machine's responsiveness to a hard stop command, it also reduces the time and cost for building the machines. For our customers, it's a win–win situation: improved safety features and lower machine costs.
What can we help you package?