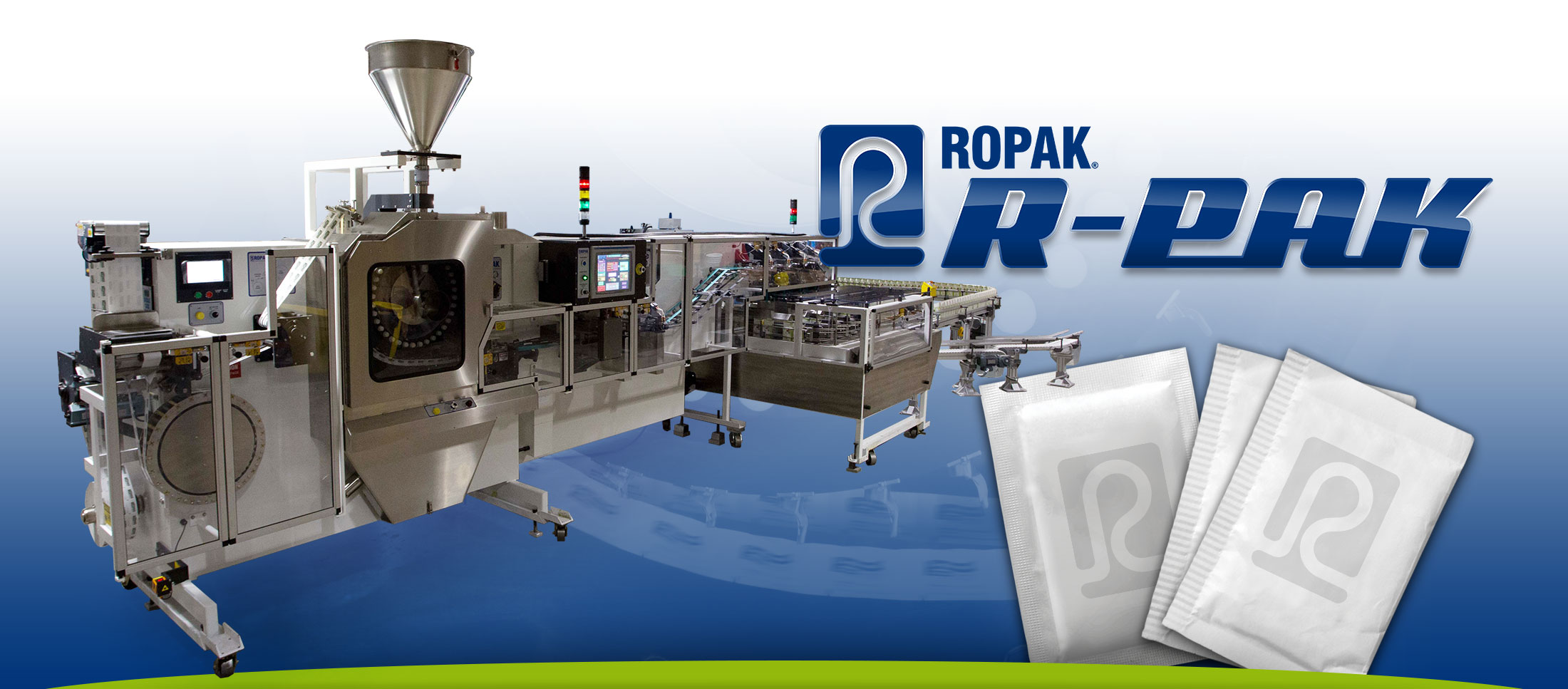 FLEXIBLE. RELIABLE. HIGH-SPEED.
GRANULAR

&

FREE-FLOWING DRY PACKAGER
Keep Product & Profits Flowing with the Reliable R-Pak.
When fast is what you need, the R-Pak series is where the industry turns for proven performance. Our flagship R-Pak modular system for small pouches is built with reliability and accuracy as a foundation, yielding inherently higher overall equipment effectiveness (OEE). The R-Pak filler horizontally forms, fills, and seals packages containing powder or granular product with high throughput utilizing continuous motion. With its small footprint and centralized controls, combined with a capability of a throughput of up to 6,000 units per minute for both free-flowing and non-free-flowing products, the R-Pak is the economical, reliable and adaptable system you need to increase your profitability.
Applications
GRANULAR — Sugar, salt, ground coffee, and similar types of materials
FREE-FLOWING — Low/zero-calorie sweeteners, ground black pepper, pre-packaged mixes (e.g. cake and gravy)
SPECIALTY — Non-dairy creamer, Parmesan cheese, crushed red pepper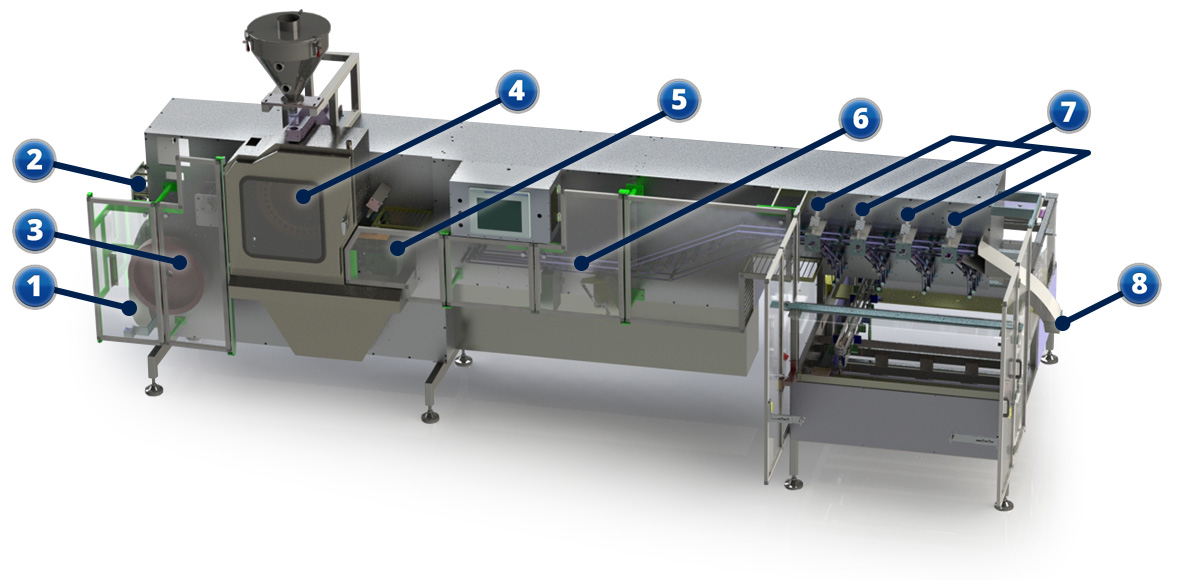 Film Unwind
Slitter / Folder
Seal Wheel
Fill Wheel
Top Seal / Packet Cut Off
Start Up Reject / Inspection
Retail Carton Loading
Bulk Carton Loading
The proven performance & high-speed throughput of the adaptable R-Pak dry packaging system helps you maximize profitability & productivity.
Key Benefits
Easy to operate – The R-Pak offers a small footprint, centralized controls, minimal adjustments, and streamlined work load
Easy to maintain – Durable, low-maintenance drive train and relatively few wear parts
Computer-controlled – Efficiency is increased by the automation controller's monitoring and management of product availability, sealing temperatures, film alignment correction, and bulk output handling
High precision – Continuous motion with careful speed control makes pack weight as repeatable and consistent as the product being packaged
Speed – 6,000 packs per minute depending on product and pack size
Specifications
| Packaging Rate: | from 200 to 6,000 pouches per minute |
| --- | --- |
| Pouch Size: | 1.0" x 1.0" up to 7" x 8" |
| Fill Weight: | .100 grams up to 60 grams |
| Products: | Free-flowing & Non-free-flowing |
| Air Requirements: | 5 SCFM |
| Machine Input: | Master or follower mode for upstream or downstream systems |
| Power: | 240 volts 3-phase 60 Amps to 100 Amps, depending on configuration |
Footprint
OVERALL DIMENSIONS:
115″ L x 50″ W x 114″ H
2921mm L x 1270mm W x 2895mm H
The R-Pak series is one of the most versatile around. The modular components let you easily configure our machines to meet your changing dry packaging requirements. With throughputs of up to 6,000 units per minute for both free-flowing and non-free-flowing products, Ropak keeps your business moving.
---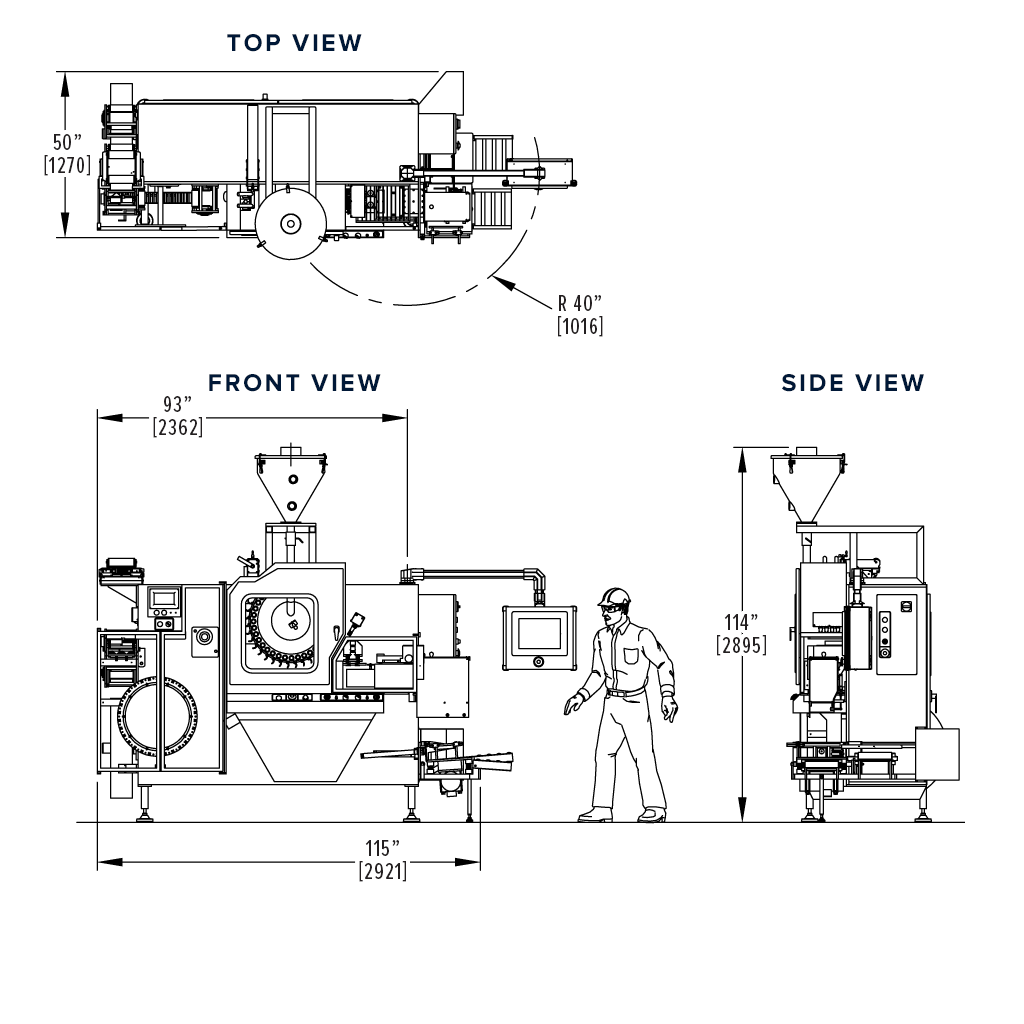 Upgrades
Tandem packaging for paired products (e.g. salt and pepper)
Variety of filler sizes for different pack size ranges
Wheel vibration for increased product flowability
Auger product feed for products that do not flow easily
Filling wheel shoe for controlling extremely free-flowing product
Interfacing with third-party carton and bulk bagging systems
Feedback interfacing from downstream systems such as check weighers
Precise count for applications in which tolerance for carton count is not greater than +/- 2 packs
Metal detect and reject
Retail packaging inserter for filling small count cartons
Optimization of filler for package size changeover
Tear notching
Film date code printing or embossing during run
Quick connect top sealer
Retrofitting
We now can retrofit older machines with new parts to match the speed and quality of new machines. To see if your machine is compatible for retrofitting, please contact us.
Safety
At Ropak, our focus is on more than just manufacturing quality high-speed equipment. Designing operator safety features into each machine is critical.
With our engineering team, safety is not an afterthought. We build the latest safety technology into the designs to minimize the hazards the moving parts pose to personnel on the floor. Our designers are incorporating safety systems into the automation controllers through networking capabilities. Not only does the use of advanced network technology increase the machine's responsiveness to a hard stop command, it also reduces the time and cost for building the machines. For our customers, it's a win–win situation: improved safety features and lower machine costs.
What can we help you package?