30 Years and Counting
Posted On: January 30, 2015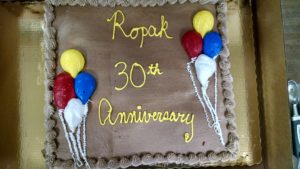 At 3:58 on January 31st, 1985, the final paperwork was filed, the fees were paid, and ROPAK MANUFACTURING COMPANY became an official corporation.
We are 30 years old!
In that 30 years we have moved twice, purchased and upgraded two major types of machines, and took over building and upgrading packaging machine projects from our parent company, Matthews Industries, which originally developed and produced the Ropak machine in the early 1970′s.
We are celebrating today (Friday, January 30th, 2015) with a spaghetti luncheon for all our employees and guests.
And, of course, we have CAKE!
Here's to another 30 (or more!) years of production and innovation as "a leader in flexible packaging technology"!